OSB(Oriented Strand Board, literally translated as OSB) in Russia, North Americ and Europe,
OSB is widely considered to be developing fast the most mature technology vitality boards.
As the demand of OSB boards increasing so quickly, so our company followed the global market
changing and demanding, integrating all strength of engineers and staff, designed and developed
this full automatic OSB production line.
Full automatic 60000CBM PER YEAR OSB PRODUCTION LINE:
(FULL AUTOMATIC OSB PRODUCTION LINE WORKING VIDEO)

Full machines and equipment list as below:
01

Long wood log debarking machine(including the

roller conveyor connecting debarker and flaker machine)

2SETS

02

Wood log flaker machine(made in Italy)(with cyclone de-dusting system)

1SET

03

Belt conveyor

1SET

04

Big and wet silo

1SET

05

Belt conveyor

2SETS

06

Materials dividor

1SET

07

Belt conveyor

2SETS

08

Roller dryer

2SETS

09

Hot air stove

2SETS

10

Belt conveyor

2SETS

11

Material sifting

2SETS

12

Belt conveyor

2SETS

13

Silo 01 after sifting

1SET

14

Silo 02 after sifting

1SET

15

Belt conveyor

1SET

16

Glue blender01

1SET

17

Belt conveyor

1SET

18

Glue blender02

1SET

19

Blender system

2SETS

20

Air compressor

1SET

21

Belt conveyor

7SETS

22

Forming machine

1SET

23

Forming table

1SET

24

Prepress

1SET

25

Cross saw

1SET

26

Belt conveyor

6SETS

27

Belt conveyor

1SET

28

Trim saw for mat-board

2SETS

29

Scale

1SET

30

Board loading system

1SET

31

Hot press

1SET

32

Unloading system

1SET

33

Roller table

1SET

34

Cooler (including reducer machine)

1SET

35

Edge saw (including the connecting roller tables)

1SET

36

Stacking system

1SET

37

Board lifter

1SET

38

Reaction kettle

2SETS

39

Steam generator

1SET

40

Storing box of Formaldehyde

1SET

41

Pumpers of glue

1SET

42

Pumpers of Formaldehyde

1SET

43

Glue vat

2SETS

44

1000000Kcal boiler

1SET

45

Sander

1SET

46

Roller table

2SETS

47

De-dust system

1SET

48

Electrial system of sander line

1SET

49

Air compressor

1SET

50

Total electrical appliance (Janpanese PLC)

1SET

51

Hot-press machine odor removal blower

1SET

52

Hot-press machine de-dusting

1SET

53

Inner monitor and Scanner of roller dryers

2SETS

54

Water booster device(including water tank and pump)

1SET
FULL AUTOMATIC OSB PRODUCTION LINE LAYOUT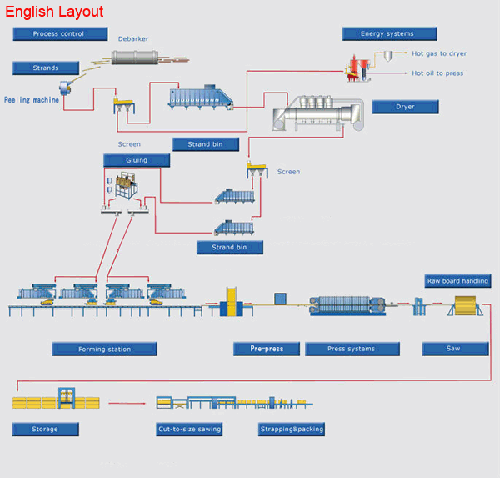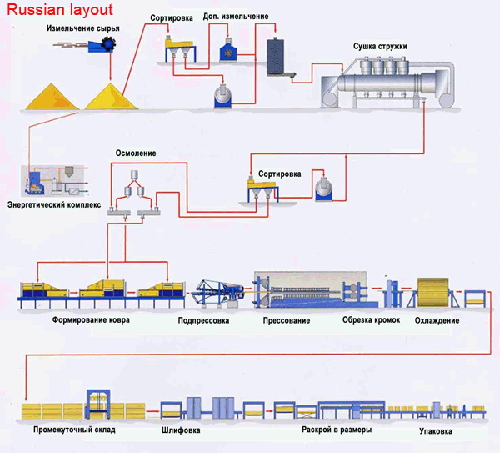 1) Wood flakes Preparation section:
Wood logs go through the debarking machine, then this machine can remove the skin and barks of
wood log. Wood logs will be sent to flaker machine, which can produce qualified wooden flakes,
and wet flakes will be stored in big silo, ready to be sent to one passenger roller dryer machine.
2) Drying and sifting section:
The flakes discharged from the wet flake bin are conveyed to the rotary dryer. After hot air drying,
all dried wood flakes will be sent through the rotay screen machine, after this sifting, qualfied and
sifted face wood flakes will be sent to face flakes silo 01; qualified and sifted core wood flakes will
be sent to core flakes silo 02. No matter face flakes and core flakes, will be stored ready and well in
dried materials silos, and this silo will be equiped with frequency changer charging device, bec next
step is glue blending machine.
3) Blending, forming and hot-pressing section:
All ready and dried wood flakes, will go to next section; face wood flakes will sent to face flakes roller
blending machine, core wood flakes will sent to core flakes roller blending machine; After glue blending
process, the surface and core flakes are sent into classi-forming machine seperately, and this special
designed classi-forming machine will compose the mat osb boards uniformly. After process of metal
remover, continuous pre-press macine, cross saw machine, trimming saw machine, and accelerating
conveyor, scaling conveyor, storing conveyor and loading conveyor, mat boards are transported to
carrier and then to hot pressing section. After this process, rough boards after hot pressing are
pushed to unloader via pusher support.
4) Cooling and sizing section:
the rough and hot pressed board will be conveyed to overturning machine for cooling and short
time storing, then the rough board goes through side trimming saw and become a qualified
OSB board, will be stacked on board lifter machine with air pushing and positioning.
5) Sanding section:
After edge cutting section, all OSB boards will be sanded via 2+4 or 4+4 sanding machine,
to sand the osb boards into accurate thickness OSB boards to finally win the OSB market.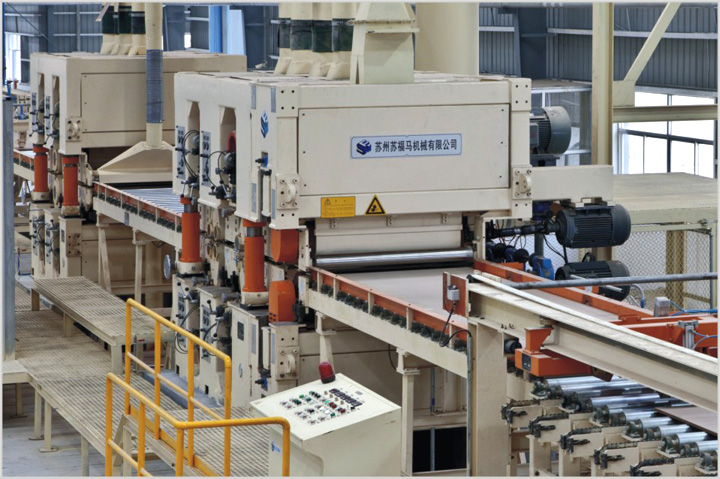 6) Melamine lamination section(selectable):
All sanded OSB boards can be laminated with core plywood veneer first, then go into sanding
again, then can use multi-layer melamine lamination hot press machine or short cycle melamine
lamination hot press machine to do the melamine lamation, then this kind baord can be
used as furniture board.
Section (6) Examples pics as below:
Finished OSB boards after this full automatic OSB production line as below: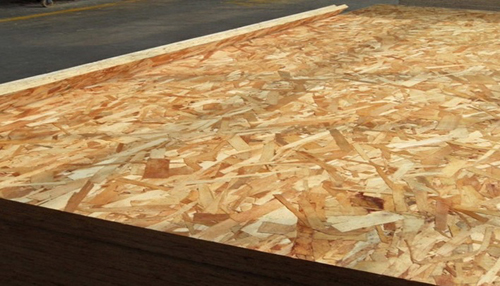 Applications of OSB boards:
TESTED RESULTS WITH NAILS ON MDF BOARD AND OSB BOARDS: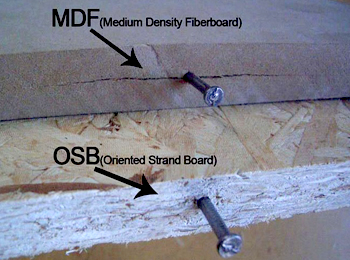 DOWNLOAD INTRODUCTION PROCESS OF OSB BOARD LINE.
DOWNLOAD-WOOD CHIPS SIZE SUITABLE FOR MAKING OSB BOARDS(GRADE AA).
[FULL AUTOMATIC OSB LINE BOARDS FINISHED VIDEO-01]

[FULL AUTOMATIC OSB BOARDS TESTING VIDEO-1250X2500X15MM-02]